Bespoke Outdoor Kitchens from Belmento, Germany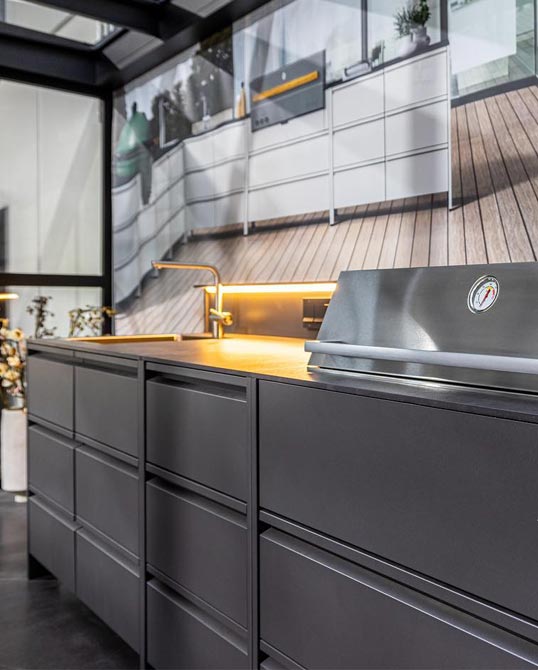 The innate uniqueness of an individual's style is mirrored in the bespoke design of a Belmento outdoor kitchen. As the British weather pattern continues to fluctuate, the allure of outdoor living is amplified, thereby necessitating an exquisite outdoor space that emulates the functionality and design of its indoor counterpart. Belmento comprehends this demand and proffers a modular range of outdoor kitchens that are an amalgamation of aesthetics and practicality.
The malleable design of the Belmento outdoor kitchens ensures that you can create a personalized outdoor cooking area that fits in with your lifestyle. From an elementary grill station to an all-inclusive kitchenette, replete with a sink, refrigerator, and for those with a proclivity for the finer things, a beer tap, the possibilities are infinite.
So, whether you're hosting a summer barbeque or delighting in a leisurely Sunday brunch amidst the tranquil beauty of your garden, a Belmento outdoor kitchen is the quintessential augmentation to your abode, imparting it with an inimitable charm and functional utility that will undoubtedly make your outdoor experience unforgettable.
Fireproof, UV Protection, Scratch-resistant And Stain-resistant Dekton Worktops
Belmento kitchens are revered for their commitment to excellence, and this is exemplified in their use of high-quality Dekton worktops from the prestigious Cosentino. The technical prowess of these worktops is unmatched, with exceptional resistance to stains, scratches, and even fire! As the ideal option for outdoor kitchen worktops, the 12mm thickness offers unparalleled robustness and easy maintenance.
Furthermore, the worktops' exceptional resistance to extreme temperatures, whether cold or hot, implies that you can set your hot pots and pans directly onto them without the slightest concern about causing any damage. With four standard worktop colours to choose from, Belmento ensures that your outdoor kitchen design is brought to life, infused with the perfect combination of aesthetics and technical superiority.
Why Our Gas & Ceramic Grills Are Perfect For Outdoor Cooking
Gas Grills

When it comes to an outdoor kitchen, the gas grill is the undeniable crown jewel. It is the epicenter of all culinary activities, and as such, it needs to match the quality of its outdoor counterparts. This is where Belmento steps in, offering a smorgasbord of premium gas grills that are sure to satisfy even the most discerning taste buds.
Whether it's a Beefeater grill with its sturdy construction and massive cooking area, a Bull grill with its sleek design and versatile cooking options, a Napoleon grill with its cutting-edge technology and superior performance, or a Flammkraft grill with its unrivaled heat distribution and mouth-watering sear marks, Belmento has got you covered!
Ceramic Grills
If you're looking for a grilling experience that's steeped in tradition, then a ceramic grill is just the ticket. Hailing from the distant shores of Japan and India, this grill's unique ceramic wall structure is designed to retain heat like nobody's business. It's a one-stop-shop for all your grilling needs, with the ability to seamlessly transition from direct to indirect grilling, smoking, baking, cooking, and even pizza-making!
How Much Does a Belmento Outdoor Kitchen Cost?
A Belmento outdoor kitchen, complete with installation and VAT, generally starts from around £14,000. This package provides you with the bare essentials for a luxurious outdoor cooking experience, including a sink module, gas grill module and outdoor fridge module. Of course, we also offer additional modules and customization options to suit your specific needs and preferences. So, get in touch with us to start building your dream outdoor kitchen today!